Western Heights, 2nd Floor, Karuna Road, Westlands
Mon-Sat, 8.00-18.00. Sunday CLOSED
NEWS
What they have reported about our work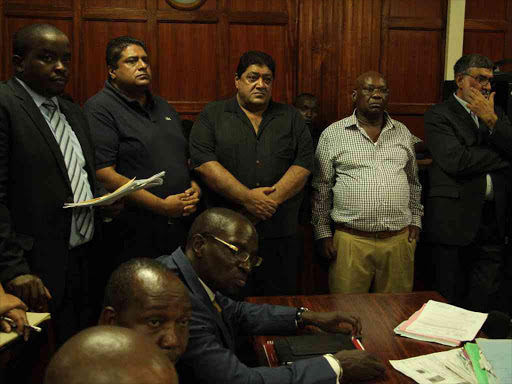 Imperial Bank chiefs charged with fraud
Five senior managers of Imperial Bank were yesterday charged with conspiracy to defraud it of Sh29 billion through an illegal overdraft disbursement scheme.
Naeem Shah, James Kaburu, Nashir Jessa, Zulfikar Jessa and Nargis Jessa appeared before senior principal magistrate Joyce Gandani. They denied engaging in organised criminal activities, fraudulent accounting by officers, theft and money laundering.
Head Office 
Andrew & Steve Advocates
Advocates, Commissioners for Oaths and Notaries Public

Western Heights, 2nd Floor,
Karuna Road, Westlands
P.O. Box 52 - 00606,Sarit Centre,
Nairobi, Kenya
Tel: +254 707 324 113 / 202 324 113
Email: as@asadvocates.co.ke


© Copyright 2018 Andrew & Steve Advocates.